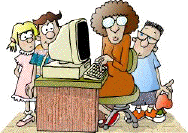 Index of Resource Directories for Educators
The information indexed on this page is the result of Internet "mining" and teamwork done by three communities of educators enrolled in a graduate, "mostly online " course at the University of Texas at Austin during the spring semesters in years 1998, 1999, and 2000. This community-based, telecollaborative course: "Teaching and Learning with the Internet" was taught by Judi Harris, Ph.D.
Each member or team in the learning community was asked to prepare a series of Web pages that will lead you to and guide you through useful educational Internet resources that address a particular education-related topic. We call these Web-accessible, annotated resource collections Internet Resource Directories, or "IRDs." Teams of 2 - 4 participants each were asked to fieldtest successive revisions of these IRDs, making suggestions for changes according to what might be most helpful to you, our Web site visitors.
This directory in its first version was created by graduate student communities at the University of Nebraska at Omaha who took a course similar to "Teaching and Learning with the Internet" during the spring of 1992. IRD work was continued each spring semester and during several summer sessions by graduate students at the University of Texas at Austin, beginning in the spring of 1993. Until the fall of 1995, the IRD was actually a series of five long text files, updated each time another group of students took the course, either at Nebraska-Omaha or Texas-Austin. What remains on this page are links to those IRDs that are still available online.
We hope that you will find these pages to be helpful to you.
And, now, on to the !!
Join us at 2learn.ca as we learn and celebrate a century of change in Alberta. Discover our beautiful landscapes, our rich heritage, the people and the events that collectively shape our quality of life for the new millennium. Explore Alberta Places--and discover Photographs, Geography, and Wildlife. Then, visit Alberta People--glimpses from Yesterday, Today, and Tomorrow. And finally, delve into Alberta Events--Honoring Our Past, Today's Opportunities, and Building a Future--to see how particular events and moments in our history have shaped and continue to shape Alberta's future, as our province continues to set the stage for growth. Alberta teachers, students and parents will find Alberta Bound to be an indispensible educational resource as they explore topics relating to our community within our Alberta programs of study.
Catherine Kullman: Catherine@2Learn.ca
Brian Cleary: Brian@2Learn.ca
Janet Bell: Janet@2Learn.ca
Immigration to the United States reached an all-time high during the decade of the 1990s. At no other period in our history have we had such a large influx of immigrants into our country. (Critical Ethnography Conference Presentation by Dr. Marcelo Suarez-Orozco, Feb. 2000) This is going to have a major impact upon education. Classrooms are going to become more and more diverse in ethnicity and culture, and curriculum will need to address the change. Celebrating Diversity has been designed as a resource for teachers to help them take advantage of the numerous resources that the Internet has to offer in the area of celebrating diversity.
Laurie Williams
wmslcw@perfectfit.org
"Learn, Serve, & Surf" is an extensive web site designed to assist educators in their research and implementation of Learn & Serve projects. This site provides research-based justifications for using the Learn & Serve model for curriculum enhancement and denotes the importance of student-directed learning afforded by this process. Educators will find a wealth of sample Learn & Serve projects, resources for improving and expanding upon existing projects, and information on using the Internet to enhance the Learn & Serve process.
(Annotation by Brian Cleary & Jan McSorley. IRD by Arati Pandya Singh.)
Art, music, dance, drama, and film are all forms of literacy that play an important role in the development of children's lives. The complex group of communicative channels, symbols, forms, and meanings contained within oral and written language are also included in what we term "multiple literacies." Here is a wide-ranging, annotated collection of resources to enrich and reinforce the language arts curriculum. Clear and easy-to-use, the site includes a composite rating system that judges the site according to its user-friendliness, aesthetic appeal, interactivity, richness, and ability to engage the user.
(Annotation by Judythe Wilbur & Susanna Herndon. IRD by Lori Assaf.)
Ramp Up To Access is a Web site devoted to raising awareness of disability issues and to providing resources for making electronic media accessible to people with special needs. Without barrier-free access to information resources, people with disabilities may be left sitting at the cyber curb. Just as we have learned to make physical accommodations for people with disabilities, it is equally important for us to make electronic accommodations. With simple accommodations, we can ensure that educational and vocational opportunities are equally accessible. Our target audience consists of people with disabilities, their families, their advocates, and others who are privileged enough to live and work among those with differing abilities.
Judythe Wilbur: wilbur@mail.utexas.edu
Jan McSorley: mcsorley@eden.com
"Teacher-to-Teacher Collaboration" is a resource of links supporting teacher-to-teacher collaboration for professional development in the use of technology in the classroom. It contains a two-topic focus; Teacher-to-Teacher Collaborative Sites and Selected Resource Sites that feature shared resources, "how-to", professional papers, and organizations that support teacher collaboration. The collaborative sites focus on teacher-to-teacher communication that encourages professional development. The resource sites contain lesson plans, teacher discussion of technology integration into the curriculum, instruction for developing classroom materials, professional papers that promote reflections, and organizations that assist educators in acquiring needed resources and skills.
(Annotation by Kathy Leopold & Laurie Williams. IRD by Lynda Abbott.)
---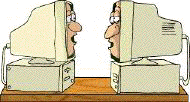 Judi Harris
judi.harris@wm.edu
College of William & Mary
Williamsburg, VA

These directories were completed while Judi was teaching in the:
Department of Curriculum & Instruction
University of Texas at Austin
Last updated: 9/18/03
Artwork by Dennis Cox and used with permission.